Owner's Maintenance Manual (SSWT)
Stainless Steel Water Tank
Dear Sirs,
Thank you for choosing our stainless steel water tank under the Deluxe/Train/DWT/OEM brands. To ensure continued optimal condition of our product, we have listed the following guidelines/ instructions for your attention and reference on the "Dos" and "Donts" in respect of upkeeping the tank throughout its operational life-span.

Please go through each of the steps in the so called 'owner's maintenance mannual carefully to familiarize yourself with the product and the benefits of a well tendered quality water storage system.

Step 1-Characterstics
(a) SUS 304
This is a high grade alloy material used in the production of all stainless steel water tanks in our plant.
SUS 304 is known for its rust resistant quality and if properly handled, this material enjoys longer
durability in terms of strength, leakages and staining.
(b) P.H 6.8-7.0
Our range of stainless steel tanks are designed for P.H 6.8-7.0 standard treated water below which its
integrity against corrosion due to high acidity effects may be compromised.
In serious cases of low PH level, rusts will happen PH level is susceptable to impurities in water which
increases acidity.
Both soluble and non-soluble metal particles found in polluted water supply raise acidity or lowers PH level in portable water.

Step 2 -Cleaning Tank
(a) De-sludging to remove accumalated mud, metal particles and all toxic/ bacteria causing dirts at lease once a year is highly recommended. (By doing so, will protect the rust resistant strength of the product as we know iron particles from contaminated water source causes rusts to propagate if let unattended or unremoved over a long period)
Step 3-Installation
(a) Always enlist authorised/licensed plumber when installing your tank
(b) It isimportant to always insist on non-ferrous and food grade fittings (i.e. BSPT 304 pipe fittings ) for water outlets and discharge points.
(c) Avoid using G.l.connector or piping at all valves. These are rust contributing materials and can affect the performance of the body of the tank.
(d) The tank must be installed on strong support as its base.
(e) Once installed, please DO NOT remove the tank from its original base without the proper supervision of a qualified plumber.
(f) Refrain from any unauthorised modifications or alterations on the product.

Step 4- Proper Ventilation
(a) The SUS 304 material used in the manufacturing of Conlex stainless steel water tank is best installed in sites with proper ventilation
(b) Stainless steel tanks, from experience, has a longer life span with less rusting problem when located outside the building where the corrosive effects of chlorination is greatly reduced
(c) Our stainless steel tank is strongly recommended for installation in OPEN SPACE and is NOT suitable for poorly ventilated locations e.g. under roof tops / enclosed compounds/ basement

Step 5- Chemical Materials / Liquids
(a) Always keep the tank site away from toxic chemical emissions
(e.g. sulphur, ammonia, carbon gases, fumes, air-cons, generators etc).

Step 6 – Conlex Enterprise Sdn Bhd Hot Line
(a) Tel: 03-31341240 & H/P: 012-232 9298
(b) Please contact us immediately when defects are detected
We want to give our top attention for your patronage.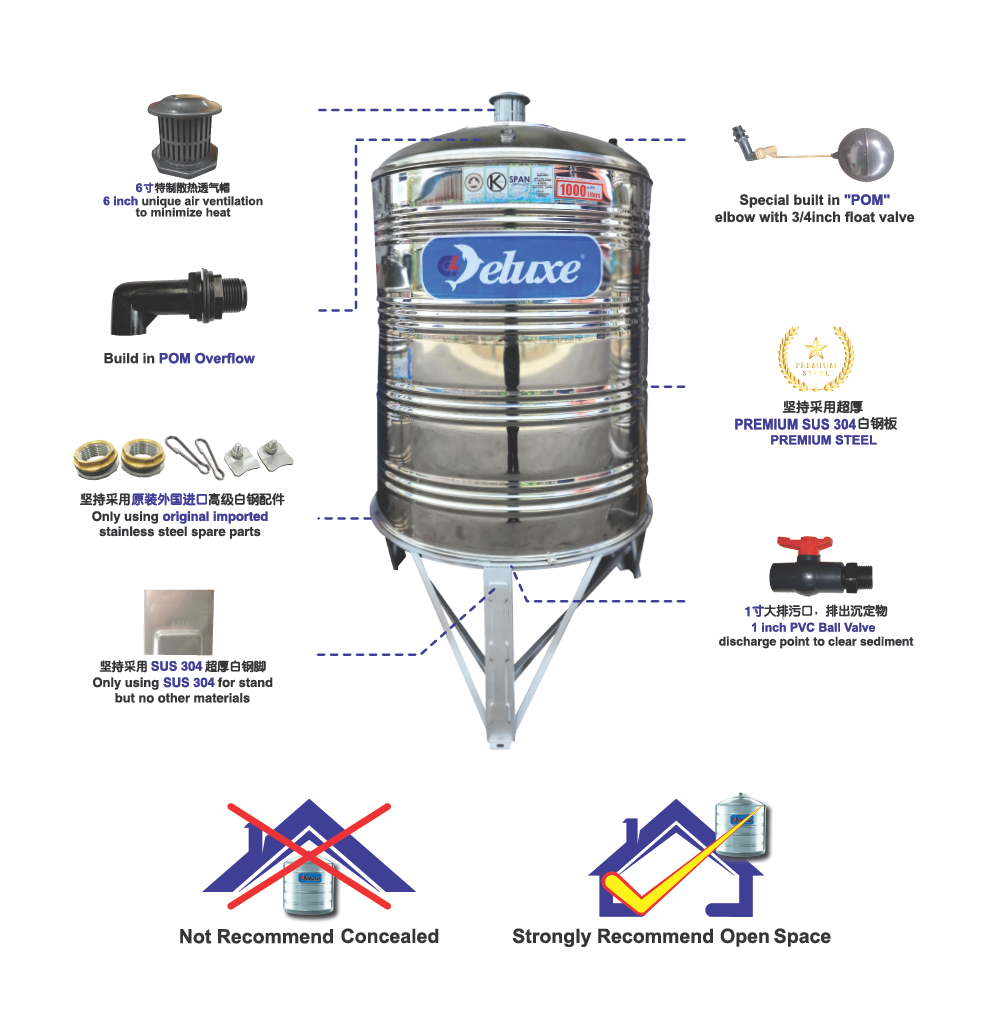 10 Years Warranty Not Applicable For Covered Area (Under The Roof) / Below Ground Level / Basement